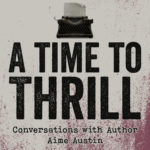 Welcome to A Time to Thrill. In this episode, I'm discussing epigraphs. I love them. For me, they signal an overall theme, foreshadowing, or even a cautionary tale.
The prequel novella in The Casey Cort Series is always free. Download it here.
There are a lot of pictures from Greece in my Instagram feed. Here's the most iconic. Here's my favorite – cats? cops? So many questions.
The Los Angeles Times article about Chinese adoption.
Please Help sign near Melrose and Fairfax. I later saw the owner of the sign when driving on another day.
If you like this podcast, head on over to Apple Podcasts and leave a ⭐️⭐️⭐️⭐️⭐️ review. You can subscribe wherever you receive your podcasts. You can follow me on Apple | Amazon | BookBub | Instagram | Facebook
The epigraphs:
(QI) Judged: "A wave of notorious child deaths in the 1990s pushed frightened social workers to remove youngsters from their homes first and ask questions later. And most of those youngsters were black." The Plain Dealer – October 7, 2005
(UCOL) Ransomed: "The fact that obscene conduct by males in the workplace and sexual harassment in our society generally has become the object of special opprobrium and public scorn does not turn the defendant's outrageous conduct into a federal crime." Judge Gilbert Merritt—August 14, 1997
(IPS) Caged: "Genuine tragedies in the world are not conflicts between right and wrong. They are conflicts between two rights." ―Georg Wilhelm Friedrich Hegel
(COI) Unarmed: "Law is a revenue stream. Dead boys and girls are a cost of doing business." Anonymous
"We have families too." Reverend Emery Wilkinson
(TRTL) Kidnapped: Adoption is, in its perfect form, suppose[d] to be about finding homes for children that need them, not about finding children for parents that want them. ― Claudia Corrigan D'Arcy
Pure and genuine religion in the sight of God the Father means caring for orphans and widows in their distress and refusing to let the world corrupt you. ― JAMES 1:27
(DJ) Contained: For whosoever shall keep the whole law, and yet offend in one point, he is guilty of all. —James 2:10
(TT) Poisoned: To believe in 'the greater good' is to operate, necessarily, in a certain ethical suspension. —Joan Didion
Abused: To tell a story is inescapably to take a moral stance. —Jerome Bruner
There but for the grace of God go I — Unattributed