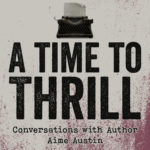 Welcome to A Time to Thrill. In this episode, I interview romance author Tawdra Kandle.
Join Tawdra's Newsletter
Follow Tawdra at BookBub
Facebook Reader Group
Non-FB Reader Group
Website
Instagram
Facebook
The prequel novella in The Casey Cort Series is always free. Download it here.
My favorite thoughtful Instagrammers:
Brené Brown
Mark Groves
Terri Cole
Tracy McMillan
"If we say that we have no sin, we deceive ourselves, and the truth is not in us." 1 John 1:8
The Gift of Fear – Gavin De Becker
Jingle Balls – Romance Anthology
The Artist's Way – Julia Cameron
Tawdra's first book: Fearless
Tawdra's Perfect Dish Series
Read Tawdra's book, The Last One for free.
If you like this podcast, head on over to Apple Podcasts and leave a ⭐️⭐️⭐️⭐️⭐️ review. You can subscribe wherever you receive your podcasts. You can follow me on Apple | Amazon | BookBub | Instagram | Facebook
Links may be affiliate links: I'll earn a small amount if you click and buy at no cost to you.