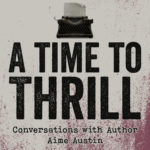 Welcome to A Time to Thrill. In this episode, I get the absolute pleasure of sitting down and (virtually) chatting with Elizabeth Decker. She's an amazing visual artist. We discussed so many things, here are the show notes from this great episode!
It was great to chat with this talented woman I've known for over fifteen years. Here are the show notes:
Reflective afternoon of journaling with my friends.