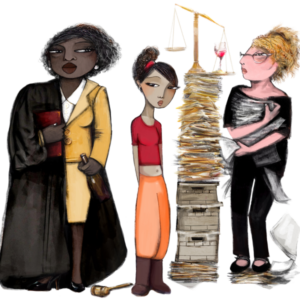 I'm so sorry to see you go! But I totally understand! Inboxes get full. Life gets crazy. If you ever want to come back, you're welcome with open arms! Just pop your info into the form below.
In the meantime, I'd love to share this beautiful art with you. It was commissioned by me from artist Patricia Krebs when Judged was first released. She did an amazing job of rendering the characters just as I saw them in my head while I was writing the book.
I love Casey Cort. She's an underdog at the beginning, but as she gets her legs up under her, she turns into a pretty good attorney. I'm super proud of her and what she's achieved given how awful her beginning was…
Nicole Long is on a completely different kind of journey. Can't wait to see what happens in her future.
It was lovely having you around!
Resubscribe here: