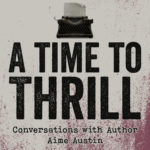 Welcome to autumn! Join me for a conversation about corrupt judges, individual advocacy, collective action, and what happens when the 'one who got away,' comes back. This month I focus on the themes in the second full-length Casey Cort novel, Under Color of Law, which will soon be retitled as Ransomed.
On Amazon, the Casey Cort series is here: http://ebooks.buzz/caseyamazon
Casey Cort is also available in audio at Audible, Apple, or wherever audiobooks are sold as well as libraries.
From time to time I mention how important the Brooklyn Public Library was to me. Here's an essay I wrote (for a library talk) on the topic: https://medium.com/@sylviefox/an-ode-to-librarians-books-saved-my-life-407907d2f72
And finally a snap of my biking view from Santa Monica, California on Instagram.
Links may be affiliate links: I'll earn a small amount if you click and buy at no cost to you.