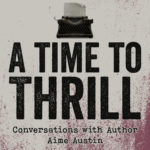 Welcome to Episode 7 of A Time to Thrill. In this one, I have a great conversation with author Sophia Henry.
Facebook
Instagram
Twitter
Pinterest
The prequel novella in The Casey Cort Series is always free. Download it here.
Books, bands, etc., mentioned in the podcast.
The Gift of Fear – Gavin De Becker
Jingle Balls – Romance Anthology
Devil in Disguise – Sophia Henry
Queen Move – Kennedy Ryan
Keane – Her Ruthless Ex – Theodora Taylor
Missio
Jack's Manniquin
Phish
The 1975
Frightened Rabbit
"When you don't have enough, you hold on to whatever you have. You don't even know that if you open your hand you can have more." — Vivian Stephens – Texas Monthly
If you like this podcast, head on over to Apple Podcasts and leave a ⭐️⭐️⭐️⭐️⭐️ review. You can subscribe wherever you receive your podcasts. You can follow me on Apple | Amazon | BookBub | Instagram | Facebook
Links may be affiliate links: I'll earn a small amount if you click and buy at no cost to you.